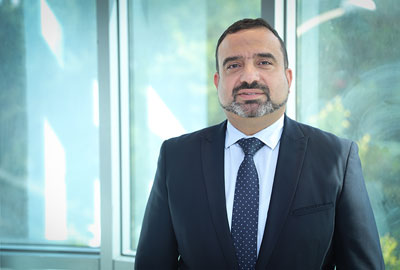 Senior banking manager and credit risk expert joined Boussayene Knani & Associes and BK World Advisory in 2018.
He has over 24 years of experience, including for international firms/organizations such as Germela Germany, Fidelity Worldwide Investment UK, and Citibank.
He has Strong background in credit/risk analysis, ensuring compliance with processes, policies, and regulations, and advising management committees and board members on business, credit, and risk policies..
Executive General Manager/ Associate, Calyston BK Tunisia 2020 – Present
Board Member, SIMPAR (BNA Bank Tunisia subsidiary) August 2020 – Present
Served as independent administrator in charge of restructuring program of BNA real estate companies
International Banking Expert, USAID & Expertise France covering Tunisia & Libya: February 2017 – March 2020
Credit-Risk Manager/ Middle Office Manager, ATIB Bank, Libya 2015 – 2019
Cash and Control Manager, Fidelity Worldwide Investment, Covering UK & Luxembourg 2013 – 2015
Executive Manager/ Financial Advisor, Rayen Worldwide Trading Company, Tunis, Tunisia 2013
Manager and Senior Credit Risk Auditor, Citibank, Tunis, Tunisia 1999 – 2012
Financial engineering
Risk management: audit, evaluation and analysis of risks
Implementation of risk management strategies.
Expertise in financial analysis techniques
Banking law
Foreign exchange legislation
Islamic financial regulations and products
Masters of Sciences in Advanced Monetary and Banking Economics, Part 1, Faculty of Economics and Management – CAMPUS University, Tunis July 2001
Bachelor's Degree in Monetary and Banking Economics, Faculty of Economics and Management – CAMPUS University, Tunis May 2000