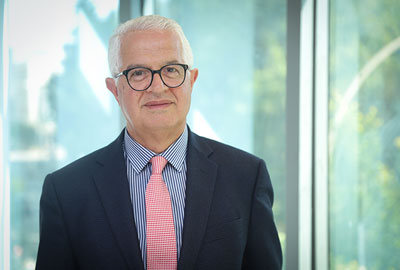 Youssef KNANI is a specialist in arbitration, commercial law, banking law and stock exchange law.
He is particularly involved in mergers and acquisitions and regularly acts as a lawyer or arbitrator in disputes relating to general business litigation.
PhD in law and Associate Professor in Private Law, Youssef KNANI teaches corporate law, commercial law, bank and stock market law, trade financing law, and common law at the Faculty of Law, Political and Social Sciences of Tunis.
He is the author of several books and publications on legal issues and is a member of The Financial Tunisian Group.
He is distinguished by Chambers & Partners 2021 "Youssef Knani enjoys an excellent reputation for his expertise in corporate/commercial law. He exhibits deep knowledge of banking and stock market law and is involved in M&A transactions. Interviewees say he is "very well respected".
Chambers & Partners 2022 : « Based in Tunis, Youssef Knani enjoys an excellent reputation in the disputes arena, with his work encompassing a mix of litigation and arbitration proceedings. He is also able to advise on M&A, capital markets and franchising matters. "He's highly regarded in this space." "He is well known as a good litigator." ».
He received the National Order of Merit.
He is also Member of The London Court of Arbitration.
Corporate and commercial law
Business law
Foreign investment law
Domestic and international arbitration
Bank and stock market law
Competition law
Franchising law
Studies on American Political and legal system at the American University. Washington D.C. (1995)
Associate Professor in private law (1982)
PhD in private law , Paris II Assas
Postgraduate degree in criminal sciences law and postgraduate Degree in private law, Paris II – Assas.
Book : Commercial law
Book : Property law (Co-author)
Legal aspects of the language of arbitration : Revue de l'Arbitrage, (© Comité Français de l'Arbitrage 2020, Volume 2020 Issue 4) pp. 1049 – 1083
The banker and the corporate in difficulty
Changing company law
The agreement system concluded between the company and its senior managers
The State and the corporate
Clauses of assent and pre-emption in shares transfer
Quorum and majority rules governing shareholders meetings
New rights of partners
Conflicts of interest between limited company and its senior managers (Commentary on artcile 200 , Code of Commercial Companies)
Professional law firms
Abuse of dominant position in the competition law
Competition law reform
Criminal cheques law
The buyer's error and non-disclosure of the land constructability.
Synthesis report of the research work on the new code of commercial companies conducted at the Faculty of Law of Sousse.
Corporate groups